Back in 2016 I was the lucky winner of a MommyPoints giveaway, scoring a Centurion Lounge Pass. I used it, in combination with a United voucher from a voluntary bump, for a super quick overnight flying-for-the-heck-of it trip. The easiest location to visit was hands-down the Centurion Lounge SFO.
Little did I know that I'd be back to visit this particular lounge several times over 2017.
Accessing the Centurion Lounge SFO
To visit any Centurion Lounge, you must be an American Express cardholder. However, with most Amex cards, you'll have to purchase a day pass to access the lounge, to the tune of $50. Day pass access is also not guaranteed, as the lounge is capacity-controlled. Considering that the Centurion Lounge SFO is often packed, you may have difficulty going the day pass route.
The other way to access the Centurion Lounge network is being either a Platinum or Centurion cardholder. Since a Centurion card is out of the question for most people, the best way to access the lounge is via either a Business Platinum card or one of the many flavors of the Personal Platinum card.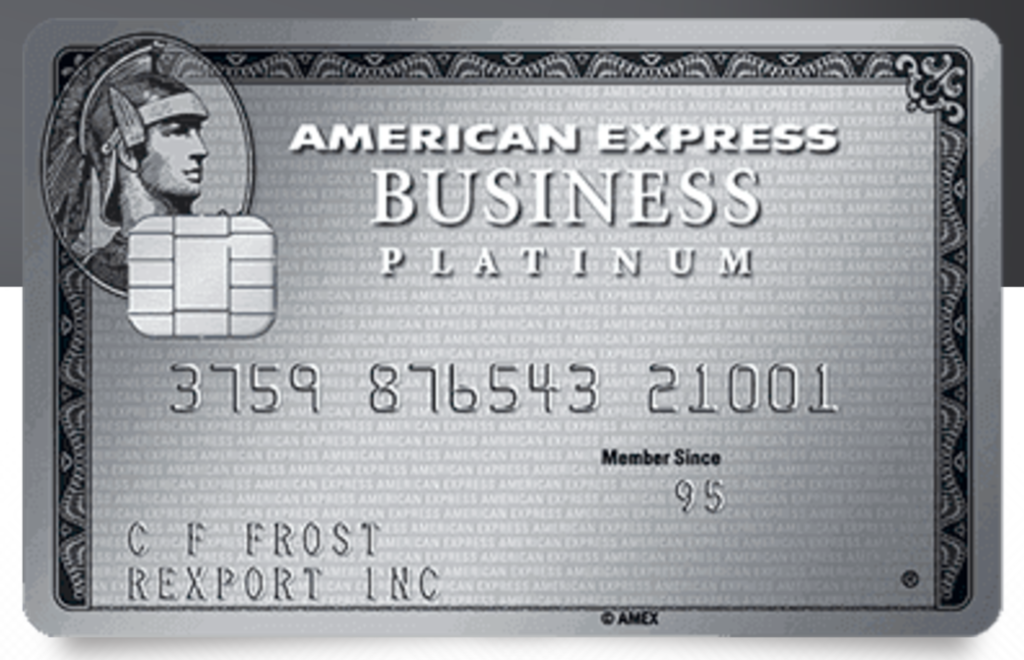 As I have a business incorporating a couple side gigs, I decided to pull the trigger on a Business Platinum card when the sign-up bonus was increased to 100,000 Membership Rewards points (SEE: 6 Best Amex Transfer Partners). The card carries a hefty $450 annual fee (personal version costs $550). But, it's a write-off.
Arriving at the Centurion Lounge SFO
The Centurion Lounge at San Francisco International Airport is located in Terminal 3 near gate 74 . Since Terminal 3 is connected to International Terminal G via a post-security walkway, you can access the lounge from either of these terminals.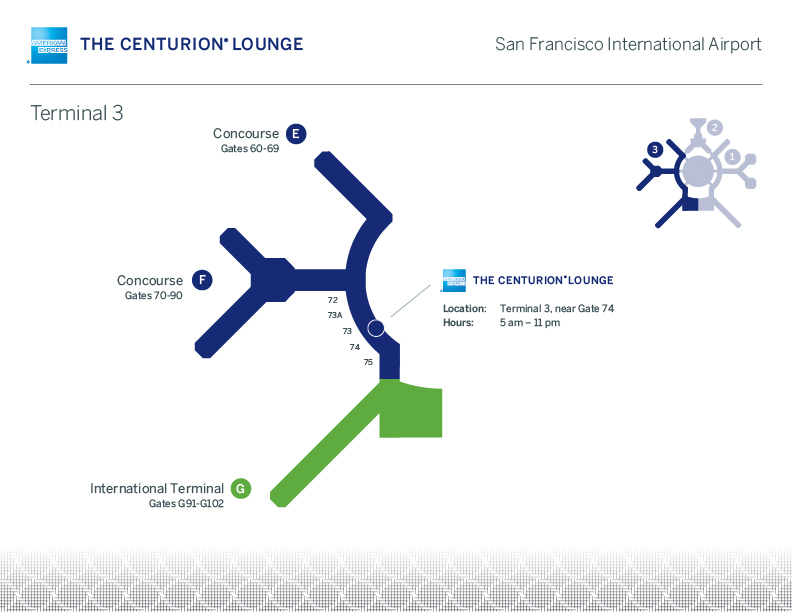 If you're not flying United or one of the StarAlliance partners that uses International Terminal G, accessing the Centurion Lounge SFO will be a bit more of a headache. You'll have to pass through security (probably explaining to the TSA agent that you are visiting a lounge) into Terminal 3, but will have to exit and go through security again into terminals 1, 2, or International A.
You really can't miss the entrance to the Centurion Lounge SFO. The front is all glass, and you'll see the stairs and elevator heading up to the floor above. The lounge itself overlooks part of Terminal 3 below, but you really don't get any views of either the terminal or the tarmac, unless you sit right up next to the window. My favorite lounge view so far was (amazingly) at the McCarran United Club.
Seating at the Centurion Lounge SFO
There is a great variety of seating at the Centurion Lounge SFO. The lounge is essentially divided into two parts. Near the bar and food area there are a number of tables where many people tend to eat. I avoid this side of the lounge since it tends to get crowded.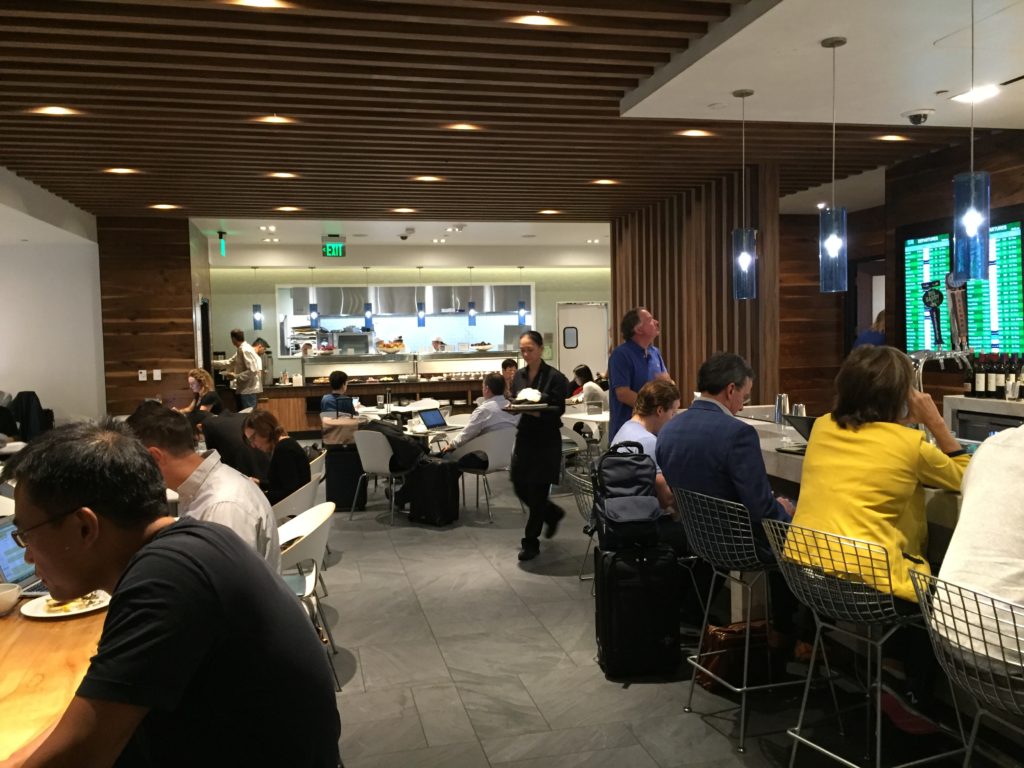 There is a middle area across from the front desk. I've never found it to be an appealing place to sit, either. I guess it would be if you're highly interested in the news. The coffee station is also located here.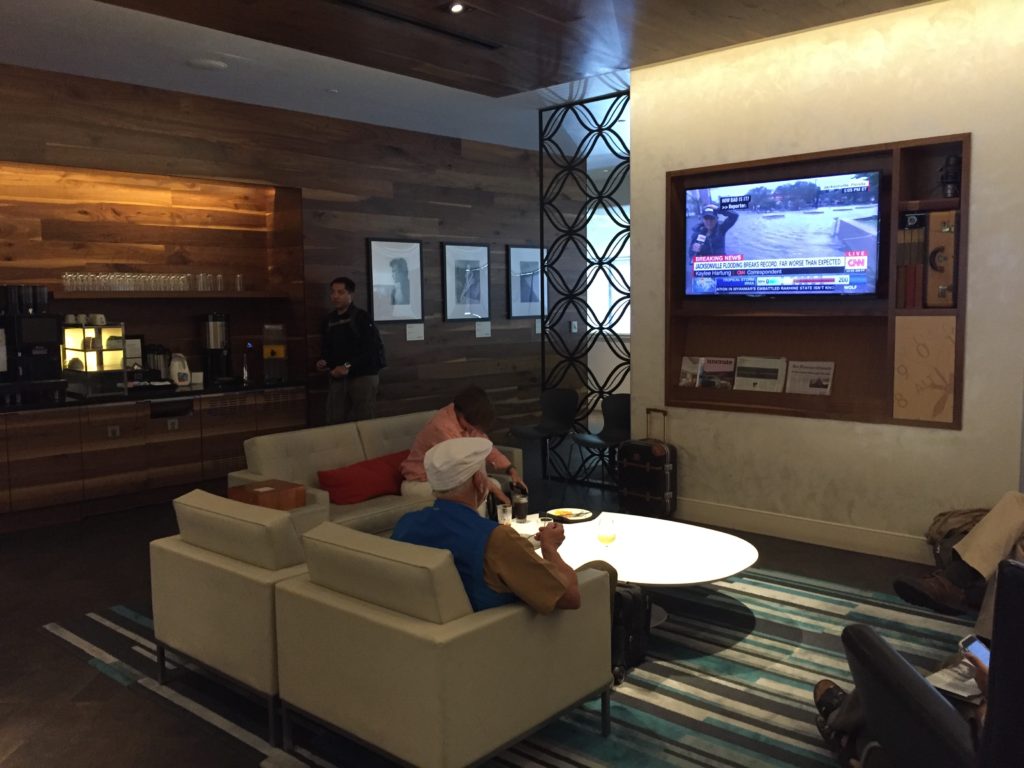 Personally, I much prefer the other side of the lounge with it's variety of seating. There are a couple couches, some armchairs, and some different booth-style seats for 1 or two people. If you're trying to be productive, I'd pick the large table with a number of outlets to keep your laptop and other devices charged.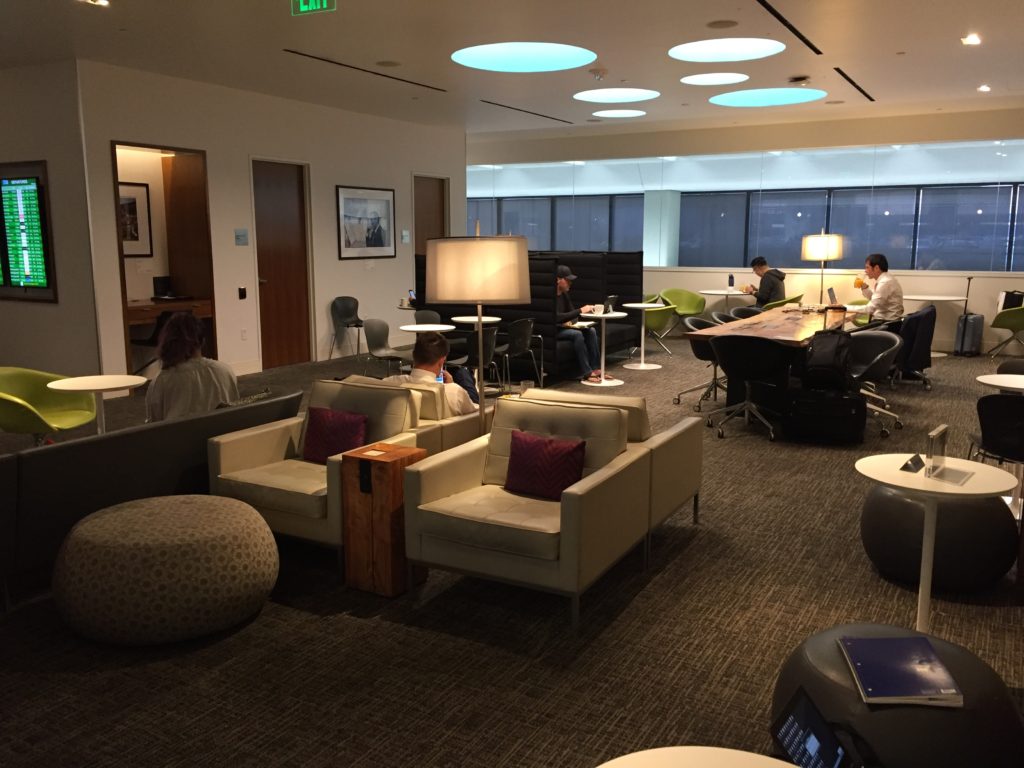 Today we picked one of the small wall couches along the far side of the lounge.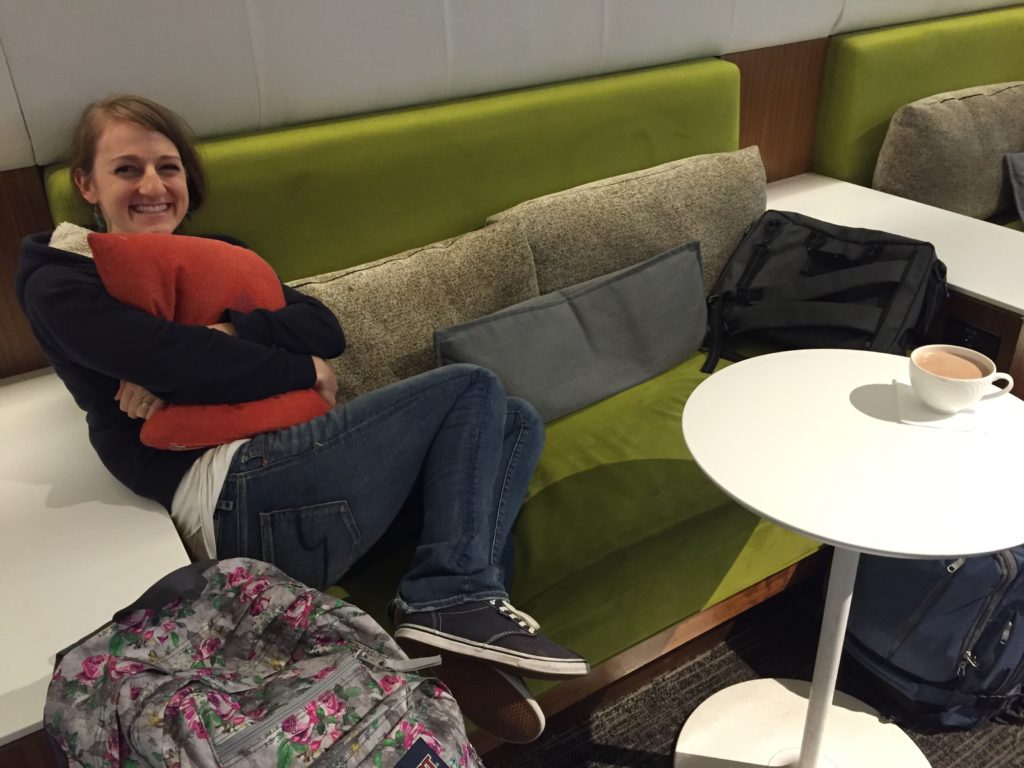 Family area
The Centurion Lounge SFO does feature a kids play room. Unfortunately, American Express has totally socked it to families in terms of lounge access, so we probably won't be enjoying the kids room with our family. It would cost another $175 per year. We likely won't be passing through SFO again anyway on this trip, but it's a bit of a bummer of the future. This change might also might result in me dropping the card next year.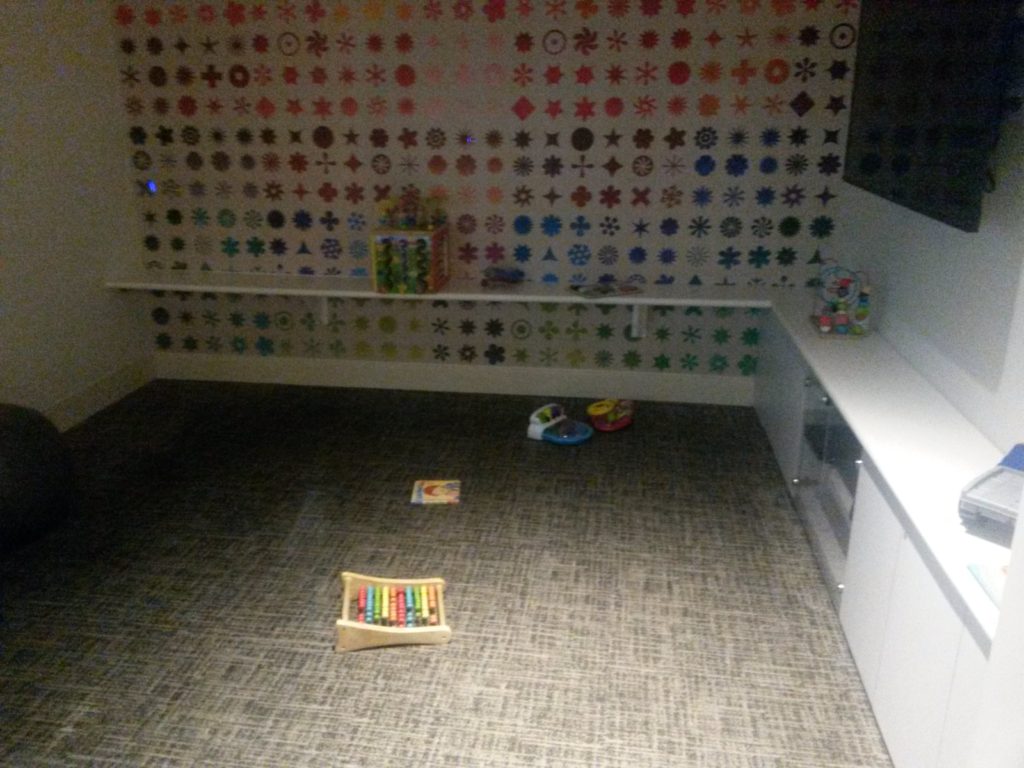 The kids area features toys, a TV, and seating for parents. I'd say it hits capacity at only two parents with a couple kids each, so it's not all that big. But then again, there typically aren't that many families with young children passing through the lounge at the same time. I only saw two with young kids during our three hours there.
Food at the Centurion Lounge SFO
While I haven't visited all that many domestic lounges, the food at the Centurion Lounge SFO is far better than any of the other lounges I've visited. All of the United Clubs I've visited have had meager food offerings. But free is free (when you're using a complimentary one time pass), so I'm not really complaining.
The food at the Centurion Lounge SFO, however, is great. Dinner often consists of chicken, pork belly, rice, and some other great dishes. I've been through here 3 or 4 times in the evening, and the food has typically been the same offerings.
Breakfast is good as well. Unlike other lounges that only offer light options like fruit, yogurt, and pastries, the Centurion Lounge SFO actually has a full breakfast. Today the selections included breakfast sandwiches, frittata, eggs, as well as fruit and pastries. It was a good start to the day, especially after having hardly eaten since we woke up at 3:00 a.m.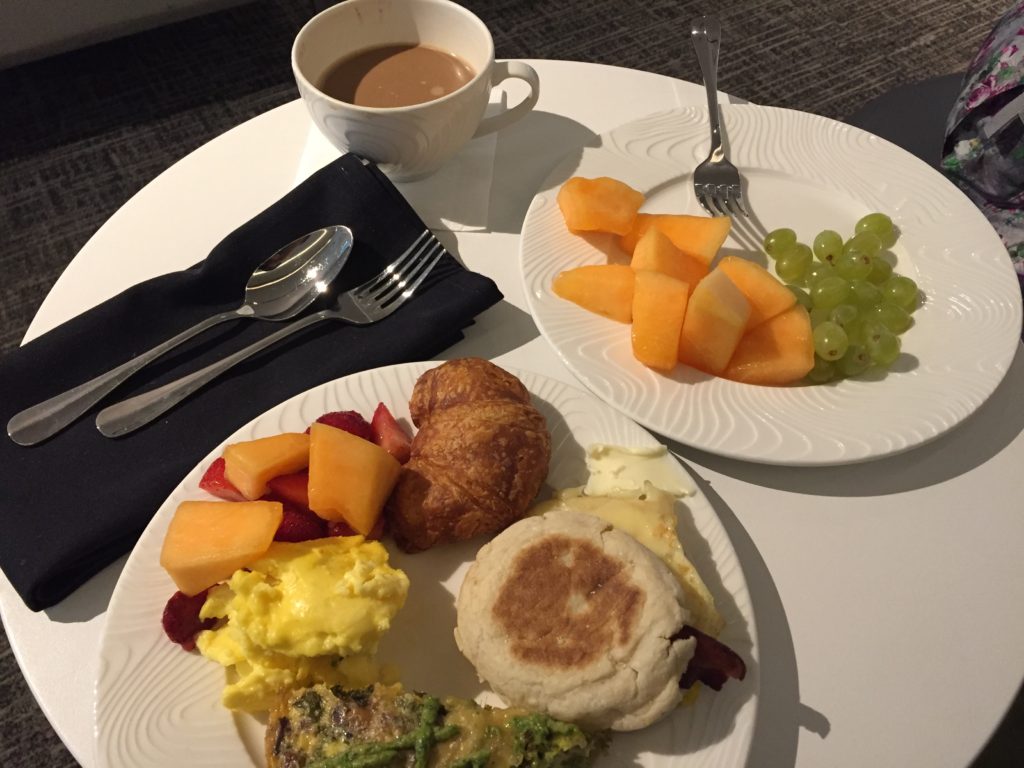 There is a full bar at the Centurion Lounge SFO, and from what I understand, it's a rather good one. They have a selection of wine, and plenty of other options. I've never sampled any of it, so I can't really report on this aspect. 😉
Crowding at the Centurion Lounge SFO
The lounge has been typically crowded most of the times I've been here. Occupancy is usually highest in the evening, while this morning was relatively quiet. The longer we're here, however, the more people arrive. Now the place is hopping at almost 10:00 a.m.
The worst experience was a night when there were numerous delayed United flights. The Centurion Lounge SFO was completely packed, and it was extremely hard for me to find a single seat. I had to wander for a while before someone finally got up and left. If you're looking for peace and quiet, I might keep a couple United Club passes on hand (if you have the Explorer card) to see if any of those are better.
Other amenities
Like most lounges there are boards showing flight departures and a couple TVs showing the news . It's also nice to have very clean bathrooms rather than the high-traffic ones in the terminal.
The Centurion Lounge SFO also offers free WiFi, of course. I find it very handy that the password has not changed the entire time I've been visiting, making it easy to just remember the network on my phone and type it in each time. While SFO offers free WiFi in the terminals, the internet speed at the Centurion is far better.
Conclusion
The Centurion Lounge SFO is a nice oasis if you're flying in or out of the Bay frequently. While some people might not be able to justify the $450 annual fee for a Business Platinum card, if you travel enough, the other perks of the card could make it worth obtaining.
SFO map image and Business Platinum card image courtesy of American Express.