Two weeks ago I took off across the Pacific on a one week trip to Australia. Of that week, I had 5 days and 5 nights to enjoy the land down under. The rest was travel time spent on a plane over the Pacific.
But some of it was very enjoyable travel time. Part of the impetus for the trip was to fly a long-haul in a premium cabin, something I had never done before. I've pulled a few 7+ hour flights in economy, but none in either business or first. I did fly international business-class when I headed to Guatemala in 2015, but it was essentially U.S. domestic first-class and only 5.5 hours. It was not what I wanted, either; I only booked the ticket in business because there wasn't any economy award availability.
When I first considered planning a trip, I wasn't even settled on Australia. I had originally hoped to visit a friend in Guatemala in November, but that fell through for various reasons. After that, I started browsing flights to get other ideas. My list of goals and constraints for the trip developed into:
Fly in a true international premium cabin (i.e. lie-flat seat)
Fly in a 747 before the U.S. carriers retire the last of them
Don't burn much/any PTO
Go somewhere that won't be scrutinized by the State Department and impact our adoption home study (idea #2 was visiting my friend Daniel in Iraq…had to scratch that)
Keep it cheap
In November I found the perfect ticket. There was saver availability for a premium cabin ticket from Arcata, California all the way to Sydney, Australia. The routing included the ACV-SFO hop, then SFO-ICN (Seoul, Incheon) in first-class on one of United's 747s, then ICN-SYD in business-class on one of Asiana's A380s. Not only would I get ride in the nose of a 747, but I would get to fly on the upper deck of an A380, the largest passenger jet in operation, for the first time. It was effectively two premium cabin long-hauls for the price of one. All for 80,000 United miles and $37 in fees. Win.
I found a return flight on Qantas in economy using 40,000 American Airlines miles. I held out for another business-class seat, but it never materialized.
My wife Kelsey and I discussed both of us going. When I booked my ticket, there was only one seat available, and I didn't have the miles for both of us in business, anyway. By the time I had enough points in December, there was a ticket available, except the leg from SFO to ICN was on a different flight. Not ideal.
Kels has also been on a special healing diet for the last couple months as well, which can make long periods of air travel difficult. We decided that I could go on a solo adventure to Australia, but we plan to return together someday in the future (Lord willing), again on miles, of course.
What can you fit into a one week trip to Australia?
One week is not much time to travel so far, all things considered. Sydney is nearly 7,500 miles from San Francisco.  Travel time cut the one week time-frame down to 5 days and 5 nights down under. But 5 days is still plenty of time to see some sights and enjoy Australia.
Plus, the time in the sky was a blast, so I don't want to skip over it completely. The experience flying SFO-ICN on one of United's last 747s was amazing. We did have an interesting incident along the way, but overall, the flight was great. I got some work done, watched a couple movies, and caught a little sleep in the fully lie-flat first-class seat. It was also insanely cool being right in the nose of the 747. The flight attendants were great, and they made the trip immensely enjoyable. I wrote a full review of the experience over at Points with a Crew.
The Asiana flight was great as well. The business-class seats are very nice, and the food was fantastic. Not to mention the A380 felt brand new. I got nearly 4 hours of quality sleep during the flight, so I was able to tackle my first day in Sydney feeling mostly refreshed.
Landing in Sydney at 8:30 a.m. Thursday morning Aussie time, I had a full day ahead of me to explore. I checked into the Holiday Inn Old Sydney, and then decided to take one of the walking routes suggested in the guidebook I picked up at the airport. It took me past the Opera House, through the Royal Botanic Garden, past the New South Wales State Library, and down to the Australia Museum. It was an enjoyable overview of the Sydney Central Business District (CBD).
I also walked the Sydney Harbour Bridge, which provides great views of the CBD and the Opera House, as well as the harbour all around. The Sydney Harbour is spectacular! It is the largest natural harbour in the world, and is quite the sight.
The second day included a harbour tour. I bought a ticket that included both a 24-hour ferry pass, as well as admission to the Sydney Tower Eye. I spent the morning and early afternoon cruising the harbour, stopping at both Watson's Bay and Manly Wharf to explore. The Aussie tour guide pointed out both Shark Island and Shark Beach as places to visit. The former is a pleasant island in the middle of the harbour. The latter is a swimming beach. Not sure how I feel about that.
I got off the ferry mid-afternoon in Darling Harbour, along the west side of the Sydney CBD, and walked to the Sydney Tower Eye. The views from the tower are spectacular. The ferry + eye combined ticket is $35 USD, but it is well worth it, in my opinion.
Day three was spent in the Blue Mountains. I switched hotels that morning to a Holiday Inn in Paramatta, a Sydney suburb. It was an ideal jumping off point for the Blue Mountains and was a better deal than the one in downtown Sydney.
The Blue Mountains are amazing. They were by far my favorite place I visited in Australia.  The train drops you a short bus ride from the edge of the escarpment, from which you get take in beautiful views of the forest falling away before you. I hiked the giant staircase down into the valley floor and then took the funicular train back up to the top. There is nothing like hiking through the eucalyptus forest and under the giant Australian trees ferns.
My fourth day was a laid-back travel day. I caught up with work during the morning, and then headed to Sydney Central Station to catch the train to Canberra. The train ride wasn't quite what I hoped, but it was a good day nonetheless.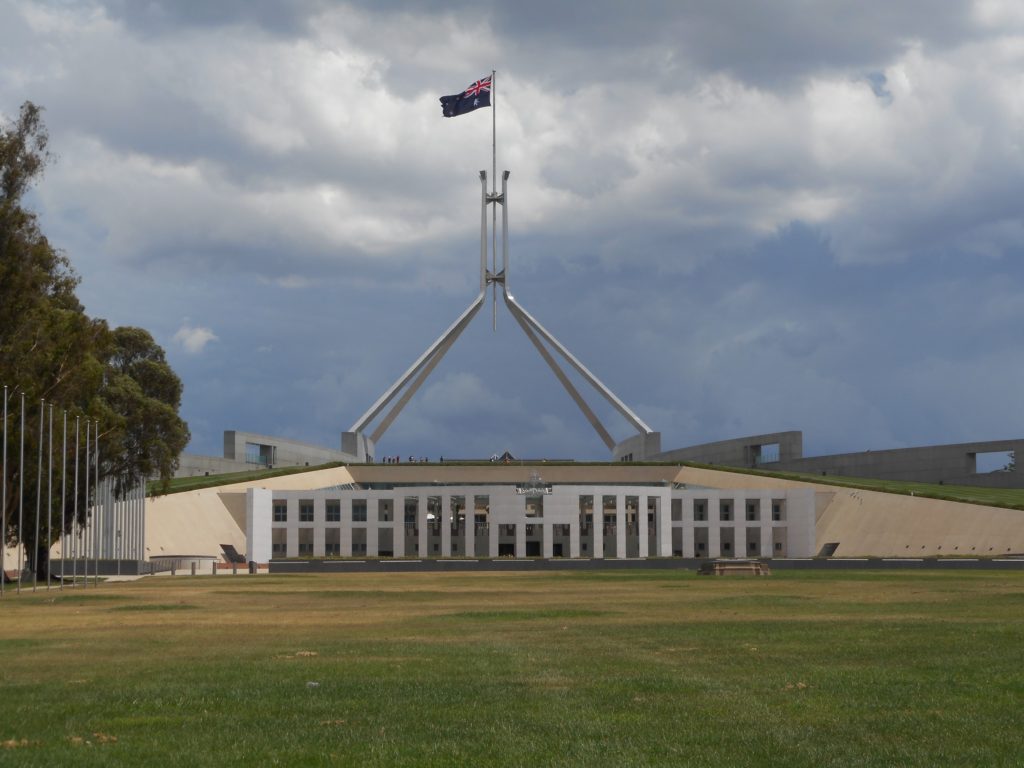 My final full day was spent exploring the Australian Capital. I visited the National Museum and toured both the Old Parliament House and the new Australian Parliament. It was an interesting brief education in some Australian history, politics, and government. I stayed at the Hyatt Canberra, a beautiful historic hotel, for both nights I was in the capital.
The next morning it was wheels-up from Canberra airport as I began my journey back to California. From take-off at Arcata to touch-down at SFO, I was gone for 7 days, 2 hours, and about 30 minutes.
What did a one week trip to Australia cost?
Considering that we have been diligently saving for adoption, not to mention our recent purchase of a newer vehicle, a trip to Australia is well outside our normal budget.
Or is it? In the end, it was actually quite cheap, all things considered. That's the power of miles and points. Here's the breakdown for the trip:
Transportation:
First and business-class flights from Arcata to Sydney – 80,000 United miles + $37
Economy flights from Canberra to SFO – 40,000 American Airlines miles + $104 (covered by Arrival miles, so $0)
Train from Sydney to Canberra – $0 (used Arrival miles)
Other train, bus, and taxi – about $51
Total – $88
Lodging:
2 nights at the Holiday Inn Old Sydney – 35,000 points per night, so 70,000 IHG points
1 night at the Holiday Inn Paramatta – used part of the Chase Sapphire Reserve credit, so $0
2 nights at the Park Hyatt Canberra – used 1 Hyatt "free" night certificate and 15,000 Hyatt points
Total – $75 annual credit card fee for the "free" night
Food:
Breakfasts – $22
Lunches – $33
Dinners – $26
Total – $81 or $16 per day, pretty reasonable
Attractions:
Blue Mountains Scenic World ticket – $29
Captain Cook Cruises + Sydney Eye ticket – $35
Parliament Tours and Museums – $2
Postcards – $10
Total – $76
The grand total for the trip came to $320 (or $46/day, including the travel days). For a one week trip to Australia. Including flights, transportation, attractions, and food. Talk about a bargain. I even got pajamas from United out of the deal.
But that is what this game is all about: seeing the world for cheap. Flights to Australia from the U.S. normally run at least $1,000 round-trip in economy. The hotels I stayed at would have easily been another $1,000, if not more. All of that cost was reduced to just over $100, and then I just had to foot the cost of food, attractions, and minimal ground travel.
When Kels and I return together, it'll be the same story. That's the power of this points and miles hobby.