Sometimes I spend months planning a trip. Other times I throw one together in a matter of hours. Such was the case when I planned a quick weekend adventure.
I had three fairly weak reasons: get myself home from the Bay Area after our California company holiday party, use the Centurion lounge pass I won in MommyPoints' giveaway, and hopefully be able to volunteer to get bumped from a flight so that I would receive another voucher. Did I need to use the voucher? No, not quite yet. Could I have used the voucher to simply fly home? Sure. Or I could have driven.
But booking a ticket from SFO-DEN on Saturday and a return DEN-SFO-ACV on Sunday sounded like much more fun. And it cost like $12 more than the single leg to Arcata, so why not.
As it turned out, I was selected as a contributing writer to Points with a Crew before the trip rolled around, so the time at SFO airport all day Saturday allowed me to kick out my first posts.
Starting My Crazy Weekend Adventure
I arrived at the airport fairly early via BART (SEE: 4 Reasons to consider BART while visiting the Bay Area) and made it through security is only a few minutes. I was incredibly glad I did not have to check any bags, as the United ticket counter lines were ridiculously long. This is one of the main reasons I prefer to travel with only a carry on when traveling solo.
The Centurion lounge was easy enough to find in Terminal 3. It's also fairly close to International Terminal G.
I had no issue using the pass, presenting my new SPG business Amex card along with it (access to the Centurion requires you to be an American Express client). I have heard that lounges sometimes refuse to take one-time passes during busy times.
The Centurion SFO was insanely busy when I arrived, which made me all the more grateful that they took my one-time pass. I found a place at a large table, grabbed breakfast, pulled out my laptop, and started writing.
I would have taken more pictures, except that I feel really awkward snapping photos with people all around. It feels like an invasion of their privacy. So….I hope you're content with the shot of the exterior and one of breakfast. There are plenty of other great reviews of the various Centurion lounges on other blogs. Overall, I thought it was certainly the nicest lounge I have visited (out of my extremely limited experience).
Over the next several hours I did nothing except write and eat and chat with people on the PWAC Slack channel. Finally, around 6:00 I packed up my laptop and headed down to the gate.
My flight was (of course) delayed. The inbound aircraft was a little overdue, and they they had to pull the one sitting at the gate away and bring in ours.
Due to weather in Denver (I would assume), one of the earlier flights from SFO had been canceled, causing some cascading overbooking. I went up to the counter to discuss volunteering to get bumped, but the next departure wasn't until 10:40. That didn't sounds like fun, as I would get less than 3 hours of sleep if I took it.
My Mistake Heading Into the Flight
Instead of thinking on my feet, though, I simply said thank you and left. Looking back, I should have tried to bargain my seat in exchange for both a United voucher and a hotel voucher, as long as United could keep  me booked on just the SFO-ACV leg on Sunday. Probably a long shot, but I lost the opportunity to even ask. You never know what might happen. They did need 7 seats.
We then boarded, and the flight went smoothly. I did a little more writing on my post about little-known BA routes with low fuel surcharges.
Things got interesting after landing at DEN. The jetway wouldn't attach to the aircraft. It turned out we were parked wrong, and the plane had to be repositioned. It wasn't exactly fun to spend an extra 45 minutes on a plane, watching the clock tick past midnight.
But I was finally off and headed to the hotel. The only miserable part was the time spent standing in -4°F weather outside the terminal. Hey, I guess it was a reminder of our trip to Canada. Soon I was at the Marriott Denver Airport Gateway (for crazy cheap via a BRG!) and fast asleep.
The Return
Morning came too soon with the 1 hour time difference, and I was one my way back to the airport in no time. Security was quick. The United terminal was fairly empty, but I am sure the Frontier one was in much worse shape after their weekend meltdown.
My flight was delayed by an hour due to operations and an aircraft swap, so I decided to burn another United one-time lounge pass to grab breakfast. The sun came up while I was sitting in the lounge, and it was a gloriously beautiful day.
About 8:30 I headed down to the gate. Boarding went extremely quickly as there were only about 70-80 people and we were on a wide-body! Our original aircraft had been replaced by a Boeing 777, and it was set up for a long-haul flight. Pillows and all!
I am simply happy that United ran the flight at all, rather than rebooking us on later flights.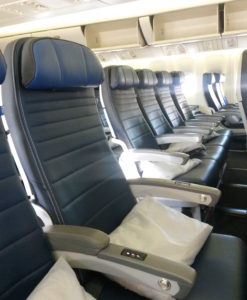 I loved the snow covered airport and the Front Range in the distance. It made me want to visit Colorado again soon.
There was a decent amount of turbulence after takeoff, but things mellowed out as we hit cruising altitude. I snapped a shot of Boulder and the Front Range as we started over the Rockies.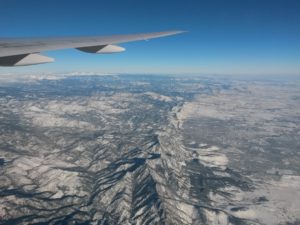 Two hours later we were landing again in San Francisco. It was a crazy quick back-and-forth, but thoroughly enjoyable for me.
Wrapping Up My Crazy Weekend Adventure
Since my flight from SFO back to Arcata was seriously delayed, I spent some time being an avgeek, snapping photos of the the 747s I saw.
Unfortunately, due to the time of boarding, I missed the Lufthansa A380 in Terminal G. I saw it out the Terminal 3 windows just minutes before we were to board.
The final leg to Arcata was quick and uneventful. A good friend of mine picked me up at the airport, and I was soon home to my wife.  🙂