Jungle. Volcanoes. Wonderfully friendly people. My trip to Guatemala in July 2015 is one that I will remember forever, and hopefully is the first of many. Among all the mission trips of which I have been a part, I will venture to say it was my favorite. Our team was a family. Our Guatemalan brothers and sisters welcomed us with warm hospitality and open arms. It was a piece of what I wish the body of Christ was like all the time. The longing to return hits me hard even as I write this.
My whole experience has gotten me thinking. Why does it take a mission trip to a foreign country for the world to seem clearer? It's like reality comes sharply into focus for a few seconds, and then everything goes fuzzy again. In those brief moments of clarity I understand exactly how I should be living. My heart is opened to God's word and Spirit in a much deeper way, and I want the world around me to simply stop so I can enjoy that moment forever. I really hope this is a small taste of what heaven is like.
Then the questions flood my mind. Why is it so difficult to maintain this same perspective at home? Why do I not have the same close fellowship with the Lord at all times? Why do I so easily let work and other obligations fill my day and cloud my thinking?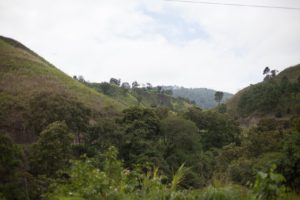 Living for Christ is an everyday pursuit. The Lord's words were not just 'pick up your cross', but 'pick up your cross daily', at least in Luke's account. That single word adds so much more depth to the meaning. Our battle is a daily struggle. We must seek Him each and every day. We must press onward, never turning back.
I can honestly say that I do not pursue Him as I ought. The desire ebbs and flows. My mind often wanders in my daily reading of scripture. Other pursuits crowd out my relationship with my Lord. I should not be so. There is no greater pursuit in life than to know and be known by the Lord of the universe.
Which makes me appreciate the moments of clarity. I long for the sweetness again that my time in Guatemala brought. I wish to experience it again, and this time to share it with my wife. I honestly expect that once we have raised a family and are in the later years of our lives, that we will end up on the mission field in some corner of the globe.
I had hoped to travel to Guatemala again this year, and not just because I want to take another trip. I want to enjoy the fellowship with my Guatemalan brothers and sisters again. I want to sit and talk with Roby, a young man I connected with last summer. We talk often via chat, but it isn't the same as talking in person in a mix broken Spanish and English. I had hoped to visit him this November, but things aren't working out.
Lord willing we will return in 2017 with our church's team.
Most photos courtesy of Jen Mrotzek.