The biggest travel news of 2015/2016 was likely Marriott's purchase of Starwood hotels. The news brought dismay to many longtime SPG loyalists. Marriott's loyalty program is decent, but Starwood's is notably better. The consternation caused by the merger has prompted other chains, like Hyatt, to court top-tier Starwood elites by offering status matches. While some people have jumped ship, many have been holding out that Marriott won't completely gut the Starwood program.
I was told on the phone last month not to expect a combined program until at least 2018. I took the info with a grain of salt since it was from a basic Amex customer service rep, but I later read that Marriott executives were saying the same thing. He was also trying to get me to keep my Starwood Preferred Guest credit card since I was calling to cancel it (for the record, he got me to keep it). I have gotten great mileage from the card, but with the merger looming and not too much on the travel forecast, I had been debating closing the account.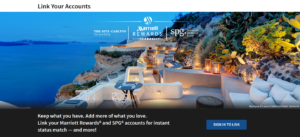 Yesterday was the beginning of Phase I of merging the loyalty programs. The main highlights are:
Ability to link your SPG and Marriott Rewards accounts
Status match between programs (Platinum to Platinum, Gold to Gold, Preferred Plus to Silver, Preferred to Member)
Two-way points transfer rate of 3:1, Marriott to Starwood.
Much of the important information regarding the program mergers can be found here. You can see the new 3:1 points transfer ratio, the status match across all the programs, and the insane number of brands now under the a single banner.
For the most part, the programs will continue to operate independently in every other way. You have to log into spg.com to book SPG hotels, for example, and stays in each program will continue to earn points and nights only within their respective programs.
I linked my SPG and Marriott accounts. It is incredibly easy. You simply follow the link, enter the login credentials one after the other, confirm that you account number is correct, and then voila, accounts linked. The status match from the link appeared to be nearly instantaneous. I don't have a Ritz account, so I don't know if that differs in any way.
Overall, I think both Starwood and Marriott have managed customer relations well through the merger. They have maintained timely announcements and emails as the process has progressed, and this early crossover of programs is 100% benefit to program members, at least in the short term. We shall see how the long term program unfolds.
Here are a few things I am still hoping for in a combined program down the road, assuming the Marriott program prevails and all (Ritz, Marriott, and SPG) are eventually merged into one Rewards account:
More lucrative promotions. Compared to IHG and Starwood, Marriott's promotions haven't been that impressive. During most quarters with IHG, I have the potential to pull in 40-60k bonus points off of only a few $100 in spending (which I usually accomplish through work stays). Starwood ran a couple good promos this past winter that netted us 6,000 points (roughly equivalent to 25,000 IHG points). I have yet to see anything of similar magnitude with Marriott, without requiring a substantial number of nights. The MegaBonus promotion offers 10,000 points after even 10 nights, a meager 1,000 points per night. Even Hyatt's current promotion is notably better.
Combination of program nights toward Marriott lifetime status. While I do think that Marriott will honor the lifetime status of current Starwood Lifetime Platinum and Gold members, the big question is: what will they do about members who are still working toward this? My best assumption is that Marriott will combine the Starwood lifetime points at the current 3:1 ratio, and transfer the nights over 1 to 1. This may not be a great deal, considering Marriott's status is harder to achieve (at least at Gold level), but it would be at least a decent deal.
Retention of mostly Starwood program benefits. This applies in a few areas. First, Starwood Gold members get a 50% points bonus on points earned from stays, while Marriott Gold members only get a 25% bonus. Things even out once you get to Platinum, except for any Starwood Platinum members who stay at least 75 nights. Additionally, Starwood offers a "Welcome Gift" at check-in, and bonus points are an option. Starwood also offers the great Make a Green Choice program. I hope Marriott will adopt some of these benefits over their current ones.
But this is all hopeful speculation. Currently, it is business as usual for all three programs. We'll see where things are headed 18 months from now.