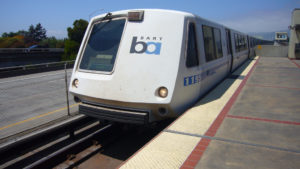 If you live in or near the Bay Area, this whole post will be pretty mundane. Leave now and go find something more interesting to read. If mass transit isn't your thing, you should probably leave as well. Have fun paying for rental cars, parking, and/or taxis. Now for everyone left, if you ever consider visiting San Francisco, Bay Area Rapid Transit (BART) is a great system to use. Here are four reasons to consider the Bay Areas primary mass transit system:
Airport access. Both San Francisco International (SFO) and Oakland International (OAK) airports have direct connections to BART. At SFO, the station is literally attached to the north end of the International Terminal. This is extremely nice. At OAK you have to take the AirBART service which runs you from the airport to the Coliseum BART station (and also the Amtrak station), but it is nearly as easy. If you are like me and prefer to use mass transit if at all possible when visiting an urban area, the BART connections make visiting San Francisco a breeze. The downtown stations will put you within walking distance of many nice hotels.
Parking. Because my wife and I live in NorCal, we have driven to the Bay Area and flown out of both SFO and OAK on several occasions. Over time we have learned that leaving the car at a BART station saves us from paying expensive airport parking. A select number of stations offer long-term permits, which you can book online through Select-A-Spot. The parking fee is at most equivalent to off-airport parking at the Oakland airport, and some stations charge as low as $5 per day. Weekends are also free is you book a period that spans them. Parking at an outlying station can also save time and lessen stress if you would be fighting rush hour traffic. Among others, my wife and I have left our car before at Oakland, Fruitvale, Pittsburg/Bay Point, Millbrae, and Dublin/Pleasanton stations. Note: the regulations do state that you must ride the system round-trip (but I honestly don't know how they would catch you if you didn't). The parking deal is so great that I sometimes leave my car at a BART station for a few days when I drive to the Bay Area for work. It beats paying for hotel parking if staying in or near downtown, and it's one less thing to worry about for the week.
Connection to Muni. If you need to travel within San Francisco, you'll have to look to Muni. The BART stations along Market Street (Embarcadero, Montgomery, Powell, and Civic Center) in downtown SF allow direct connection between the two systems. The Muni trains literally run on a platform directly above and parallel to BART. Above ground options are easily accessible as well, and you can easily get to nearly any part of San Francisco from one of the bus connections along market street. If you are looking for the iconic San Francisco cable cars, hop off at Powell Street and you can ride up Nob Hill on one.
It is easy to navigate.  Not including the AirBART connection, there are only 5 transfer stations in the entire system, and you really only need to change platforms at two of them. There aren't really multiple options between Point A and Point B. Nor are there express trains (something that makes NYC subway travel substantially more efficient, but way more confusing, at least for tourists). The only variations are morning/evening train differences, and weekday versus weekend schedule. It is true that trains don't run as often as in some other cities, but the schedule is published and typically very reliable.
There are definitely some limitations to the system. The only truly 'local' service by BART is in downtown San Francisco, and the whole system overwhelmingly exists to transport people to and from the central business district. (Okay, I guess that UC Berkeley is another primary destination). In any case, San Francisco certainly isn't Manhattan where you can find a subway station in less than 5 blocks in any direction. If you are trying to reach destinations in East Bay or the Silicon Valley, you will need to look at other options. Nevertheless, I still consider BART to be a fantastic option when visiting the City by the Bay. Add to it the great Uber coverage that exists in the city, and you'll never have to drive and park on the hills of San Francisco!