Location: Colorado Springs, Colorado
Overall Rating: 9/10
Pros: Neat historic building, very nice room and bathroom
Cons: Noisy night due to event, no free breakfast, room not especially large
Wyndham Rewards is an often overlooked hotel loyalty program. The portfolio of hotels includes mostly budget options, most of which aren't on the radar of many travelers. Recently, Wyndham removed any sort of tiered elite status program (which really only have a basic and gold level), and replaced it with a simple earning and redemption structure. Essentially, you earn 10 points per dollar spent on their hotels (minimum of 1,000 points per stay), and every hotel requires 15,000 points for a "GoFree" award night. There are also a 3,000 points + variable cash "GoFast" award for many hotels.
The Mining Exchange Wyndham Grand represents good value
With the flat 15,000 point redemption rate for any hotel, the best value for your points is always at higher end hotels, and with Wyndham these are generally the Wyndham Grand, Wyndham, and Dolce brands. I had been eyeing The Mining Exchange: A Wyndham Grand previously as a potential redemption option for our points, and it was an easy decision to make when we traveled to Colorado Springs to see friends and family.
The going cash rate was $169+tax over the dates we were staying in Colorado Springs, so The Mining Exchange was definitely a good candidate for a rewards stay, although I am sure there are still better options. I used all 45,000 points gained from signing up for the Wyndham Rewards Visa for our 3-night stay; for a credit card fee of $69, we were getting ~$550 in value. This got us a value of over 1.1 cents/point, which makes the credit card return a decent 2.2 cents/$, since it has an earning rate of 2 points per dollar. There aren't all that many hotels at which you can get this sort of value, however.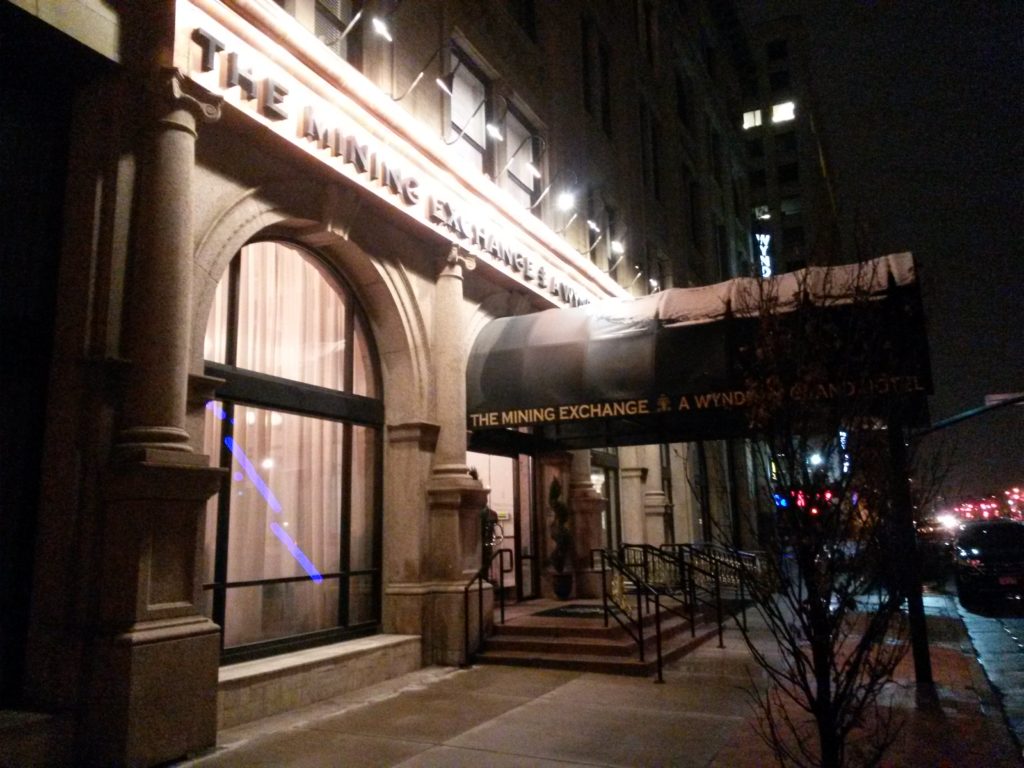 Arriving at the Mining Exchange Wyndham Grand
Upon arrival at The Mining Exchange in downtown Colorado Springs, we were greeted warmly by the two valets at the door. They kindly took our luggage and escorted us to the lobby. I realized that we don't often receive this sort of service because my wife and I do not often arrive at hotels by car, instead typically choosing to navigate the mass transit system.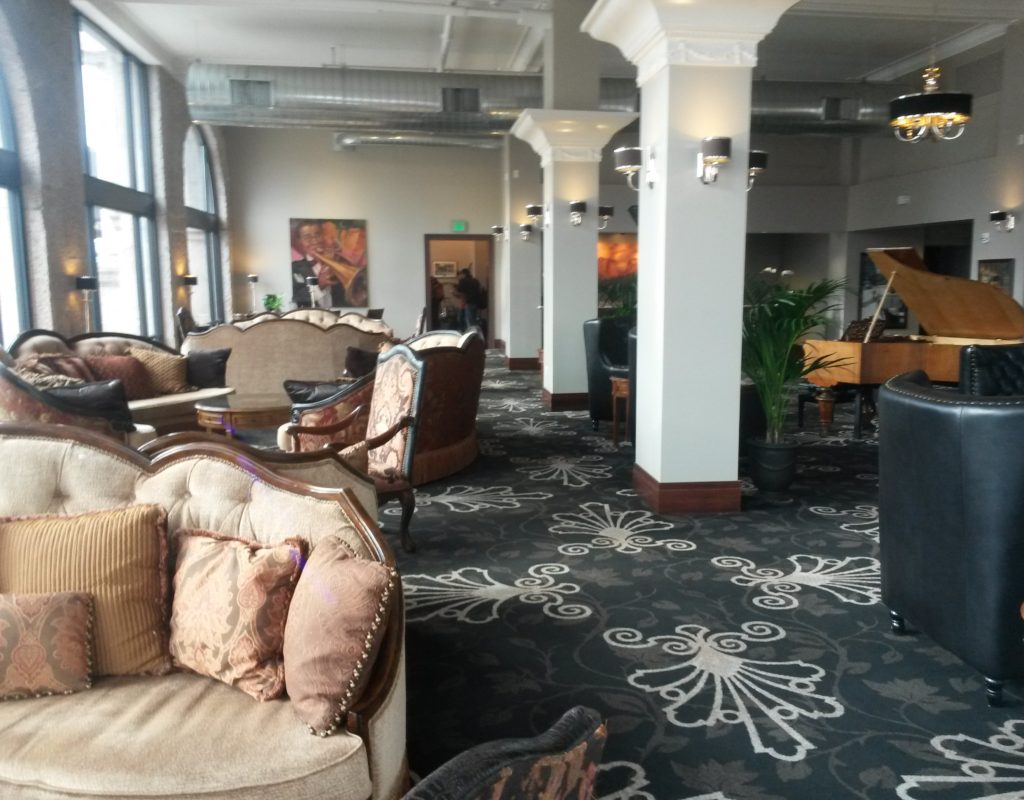 We immediately noticed how elegantly beautiful the lobby is. There is ample seating, a piano, and couches along with a fireplace next to an old vault that remains in the building. I spent some time here on the second morning to enjoy the setting of the place.
The edifice of The Mining Exchange Wyndham Grand was constructed in 1902, and the building was originally the stock exchange for mining companies in the region for many years (hence the name). The building underwent a $24 million renovation to become The Mining Exchange hotel in 2012, and it took on the Wyndham Grand branding.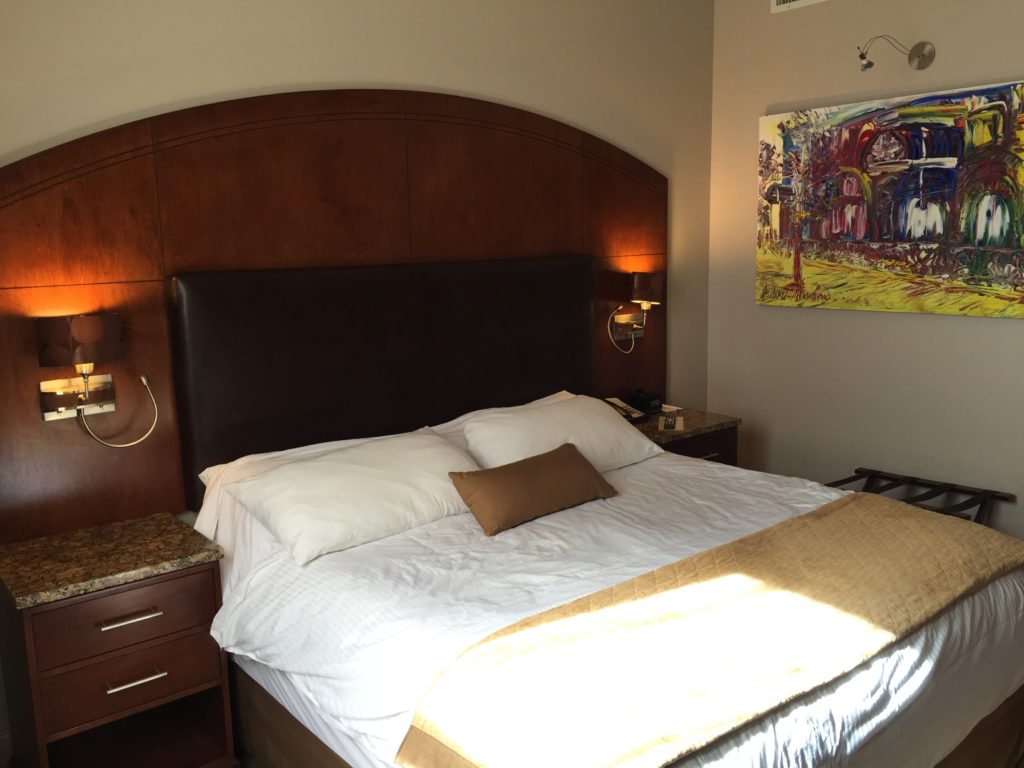 Our room impressed us as well. It was a standard queen, but it was plenty large, the bed was comfy, and the desk was huge. The exterior wall was brick, but the rest of the room was very modern. I found that I really liked the meld of old and new.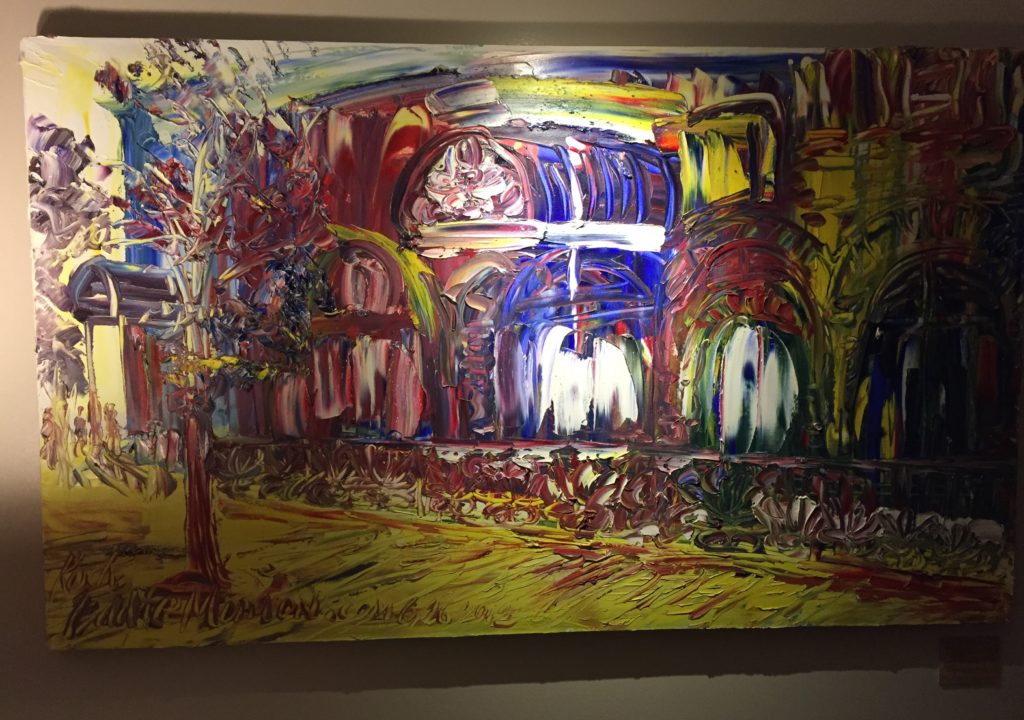 There was a painting on the wall that looked like it was of the hotel exterior, but done in very bright colors. It took me a while to make out what it was. It even had a separate light to illuminate it.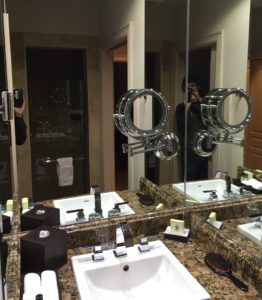 The bathroom was very nice, although the sink area was a bit small. Even with what we considered to be fairly minimal toiletries, it was hard to keep all of our items unpacked around the sink. The shower was a different story, however. It was waaaaay oversized and had dual shower heads. The water was wondrously hot. Hands down the best hotel shower I have ever used.
One of the first things that we noticed however, was the lack of a fridge. My wife and I can typically make due for a night without a refrigerator, but I knew that this would be a lot more inconvenient over a 3 night stay. Her diet consists of a lot of food that must be refrigerated, and it is a major inconvenience to be without one while traveling. Instead of making a single run to the store, we would have to run there once every day.
I headed down to the front desk to see if they had refrigerators available. The lady was very nice and said that they would bring one up right away. The maintenance guy arrived 20 minutes later. Stellar service. The service provided by housekeeping was equally as good. They even left us some complimentary chocolate on Saturday.
Food and breakfast
The one major bummer of the hotel was the coffee. I forgot to pick up cream or milk at the store before we arrived at the hotel (which is a must for me), so I figured I would try the Starbucks coffee the hotel bar offered during the morning. Complete mistake. It was awful. I found Caribou coffee a block away the next day, at it was better. There is also a actual Starbucks located on the other side of the block on Tejon street. This was a quick easy breakfast in lieu of paying for the hotel restaurant.
We didn't try Springs Orleans, the hotel restaurant. The menu looked delicious, but we ended up eating with family and friends for most of the trip, grabbing a quick bite out, or we cooked for ourselves. I haven't had cajun food since when we were in New Orleans for a couple nights on our honeymoon, nearly four years ago.
Other facilities and issues
The other things we didn't try were the MXSpa or the fitness center, both located on the basement level of the hotel. I should have just given it a peek, even if we didn't use the services. By far the coolest part of The Mining Exchange Wyndham Grand was the lobby.
One other issue that came up was a noisy event hosted by the hotel. I don't know what it was, but there was music blaring across from our room until at least 11:00 at night. I was surprised the hotel allowed this. We did't mention it to the hotel since my wife and I both eventually managed to fall asleep. But I can see how it could be super disruptive.
Final notes
Parking will cost at least a little. The Mining Exchange Wyndham Grand offers valet parking for $18 per day, and you can come and go as much as you like. They will fetch and return your car each time. We decided to go with the self park option, since the garage is only a block away, and it cost $1 per day on the weekend (actually per entry/exit), and then $0.75 per hour on weekdays, with a maximum of around $7. Our Monday bill was $5, so we managed to get away with $7 in parking for the 3-night stay.
Overall, we had a great stay. The hotel service was fantastic, and we really enjoyed the blend of the historic building with modern facilities. The rewards value was decent, but not great; however, we were more than pleased with the value of our stay.