Weather. You have to plan for it, no matter where you are headed. We get our share living on the northern coast of California. The temperature is generally quite mild, and we barely get any snow, but we do get some heavy rainstorms from time to time. If the rain is extended and intense enough, local rivers flood, and the high winds often down trees and cause power outages.
I left Humboldt today during such a storm, headed for the Bay Area. The rain literally never stopped the entire drive, and it got heavier the further I was into the hills. Things were going well for the first hour, but the trip came to a complete halt near Leggett, California. At this point the road bottlenecks to only 2 lanes for several miles through a winding section that is known for its numerous rock slides. When I came upon today's incident, I was a bit confused since we weren't near one of the sections that is always causing problems.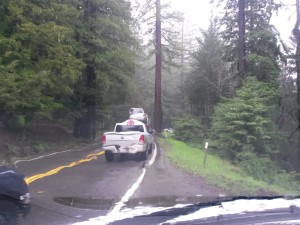 A few people were out of their cars, and I could tell something was seriously amiss. Leaving my car, I jogged 100 yards up the road, and was promptly informed that there were both a small tree and a downed power line across the road. It must have happened only a few minutes earlier since I was about number 25 in the quickly accumulating line of cars.
I decided to wait the whole thing out. Someone had called PG&E, so I passed the word about the incident to a few other drivers and hopped back in my car. It took PG&E about 30 minutes to show up, and then another 30 minutes or so to get the road cleared and start controlled traffic. There was a final incident where the truck driver in front of me stopped because his trailer was touching the telephone lines overhead! Luckily he made it through without causing more damage!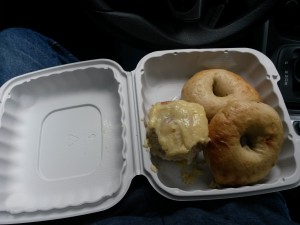 At least I had food. My wife kindly packed the last cinnamon roll and some bagels for me. Overall, it was only a minor inconvenience. I had the whole rest of the day to make it to the Bay Area, so I wasn't stressed about the delay. It was a good lesson that you can be completely at the mercy of the weather when traveling.