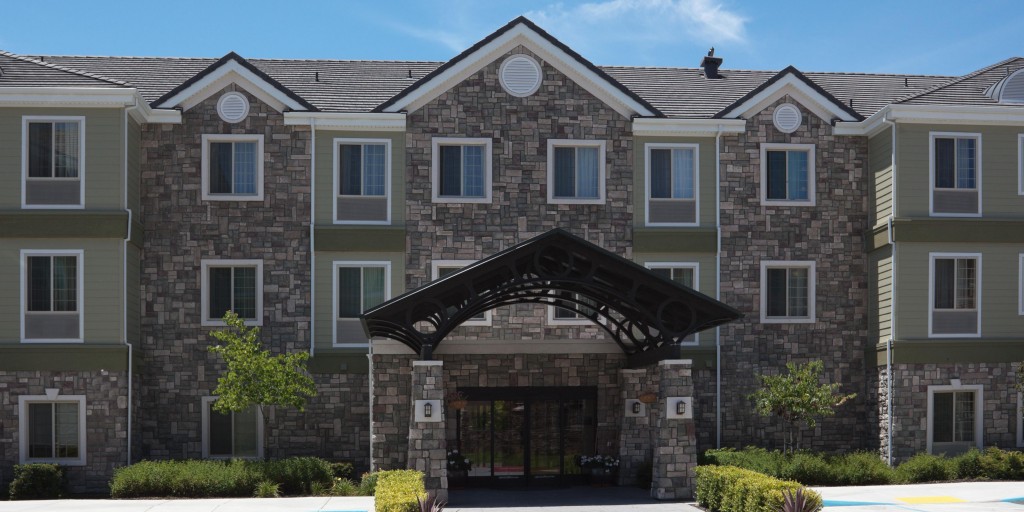 Last year my wife and I had our first stay with IHG while I had Spire elite status. This new top-tier status had just launched in July 2015, and we were both awarded it by luck. We had each recently opened a Chase IHG MasterCard that Spring and had met the 75,000 point requirement. The points (at the time) counted as elite qualifying points. It was a honestly a total fluke. But we quickly put it to use.
On a late summer trip to the Bay Area for an appointment related to our adoption process, I booked a stay at Staybridge Suites Fairfield/Napa, located in Cordelia, California. I wanted to get out of the Bay Area to avoid morning traffic the next day, and even though the hotel was slightly out of the way, having a kitchen would mean my wife could cook dinner and breakfast for herself, which she prefers over eating out due to dietary restrictions. This hotel stay is now several months in the past, but I wanted to write about it for two reasons:
It demonstrates how hotel elite status can get you great upgrades
When we arrived at the hotel, the front desk greeted us and acknowledged my Spire status. We soon had our keys and were headed up the elevator. I had booked a standard one bedroom suite (the most basic room) for our single night, so it was quite a shock when we walked into a room that had not only the standard full kitchen, but also a small living room and a second bedroom with two queen beds and its own bathroom. The front desk never mentioned the upgrade!
My wife and I had a good laugh at how we really didn't need three beds or two bathrooms for two people. I joked with her that I would sleep in one room and she could sleep in the other. She didn't find that funny. We had so much space that we simply didn't need. Which brings me to my second point…
It illustrates the subjective value of elite status perks
Our time at Staybridge Suites Napa-Fairfield was very short. We arrived as it was getting dark and departed before 9:00 a.m. the next morning. All we really wanted was a decent bed and the kitchen. What we got was so much more, but does that translate into added value? Not really. Would we have paid extra for the room? Certainly not. The upgrade was very nice, but there was no tangible benefit from it, unlike benefits that can directly correlate to money, such as free breakfast.
Conclusion
There are truly instances where having elite status with a hotel chain does contribute to a better room or experience. My wife and I have been upgraded a few times to rooms with better views, which is probably my favorite perk. I am all about a good view.
But this wasn't the case with the Staybridge Suites Fairfield/Napa. Overall, the place was nice, and the upgrade was thoughtful and appreciated, but entirely unnecessary in our case. What it did prove is that Spire status does mean something, and that I was happy about.